PRODUCTS - File & Folder Archive Software - Benefits
Easy to use & to implement
The archiving services can be completely automated.
Enables straightforward integration into any shared or collaborative workflow environment.
Fast & efficient;
Archived data is quickly available to users for sharing and re-using.
Files and folders are archived and restored with exact credentials, enabling cross platform use (Windows/ Linux/Mac OSX) of complex filenames using any character, path-name or language.
Integration between archival storage into the backup environment enables even more efficient use of existing backup infrastructure.
Infinitely scalable & affordable;
Automated use of archive containers enables both the most efficient use of archive media as well as the use of infinitely large file systems with any file size.
A wide variety of archive storage solutions ensures a scalable solution for each budget and digital archiving requirement.
Read more about the features of DAX File & Folder Archive Software
Read more about the challenge of DAX File & Folder Archive Software
View demo of DAX File & Folder Archive Software

Archive Automation
Archiving is not the same as making back-ups and should form an essential part of your storage & retrieval processes. Read more>>>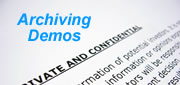 Easy Evaluation
Contact us and evaluate the optimum archive solution in your own environment. Read more>>>