PRODUCTS - File & Folder Archive Software - Challenge
Digital Archiving is basically a data centric process, which requires distinguishing between fixed and dynamic data. In addition, different infrastructural environments or customers applications require in many cases different solutions.
DAX File & Folder Archive (FFA) Software provides a flexible platform for automating any digital archive requirement and environment. Archiving can be done through a special FFA-plugin in combination with almost any backup software or to DVD/Blu-ray Disc by means of the DAX products outlined below.
FFA offers automated archiving services to the network and its users. Its main functions are to archive data from network storage locations to a central network archive and restore archived data back to the network storage locations upon request.
It provides a bridge between the shared file storage used for all dynamic data and the actual archival storage. It separates dynamic and fixed content by creating a central network archive. A central network archive ensures permanent availability of data and cost-efficient storage and network management. The archiving process can be completely automated in order to achieve minimum user efforts and maximum efficiency.
The actual archive storage can be created from a wide portfolio of solutions, like the DAX On-Line Archive, SmartDAX Blu-ray Archive or any type of digital tape (backup) solution.
Some of these specific archiving solutions are:
Read more about the features of DAX File & Folder Archive Software
Read more about the benefits of DAX File & Folder Archive Software
View demo of DAX File & Folder Archive Software

Archive Automation
Archiving is not the same as making back-ups and should form an essential part of your storage & retrieval processes. Read more>>>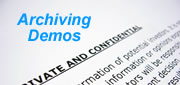 DAX On-Line Archive
Discover the simplicity of archiving & back-up with the affordable DAX On-Line Archive. Read more>>>