PRODUCTS - FFA Tape Software - Solutions
FFA integrates seamlessly into your (existing) back-up infrastructure, offering a complete disk-to-disk-to-tape archiving and back-up solution.
FFA also provides a basic platform for the development of specific archiving solutions such as the DAX Email Archive, DAX Prepress Archive, DAX DICOM Archive and DAX Broadcast Archive.
FFA contains the following features:
• Allows users to add metadata to assets to be archived by means of file/folder/project names.
• Random searching/selecting of files/folders for retrieval by means of search engine on metadata.
• Archiving files or complete folders removing the data from the original location or backing up the current
version of the data without removing the content from the original location.
• Possibility to leave HTML files behind, providing a browse/restore for archived files and folders.
• Creates and keeps track of new versions automatically.
• Possibility to create and view low-res previews for images and/or video files facilitating users to browse
and view the archived assets avoiding the need to restore.
• Enables automatic extraction of metadata from file/folder names by means of a hot folder mechanism.
• Operates independently on the file system, avoiding the need for application integration.
• Web based GUI enables remote management from any client in the network.
• Various API interfaces are possible (XML, Web-services, HTML templates), facilitating easy and flexible
integration with other applications.
• The archive service can run on Windows/Linux/MacOSX.
Read more about the challenge of FFA Tape Software
Read more about the benefits of FFA Tape Software

Archive Automation
Archiving is not the same as making back-ups and should form an essential part of your storage & retrieval processes. Read more>>>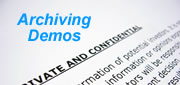 DAX On-Line Archive
Discover the simplicity of archiving & back-up with the affordable DAX On-Line Archive. Read more>>>